New Construction Boosts Visalia Industrial Park
With virtually no vacant space in the Visalia Industrial Park a spurt of new construction is underway that will make room for both new tenants, local company expansions and relocations in coming months.
If there are few empty buildings to lease, Visalia sports about 1,000 acres of land "zoned and ready to go," according to Visalia economic development  manager staffer Devon Jones.
Developers looking to encourage companies who might want a location in the Central Valley are building several concrete tilt-up "spec buildings" in Visalia that can be ready for tenant improvements and occupancy in a matter of weeks.
Making new projects feasible, the city has a streamlined permitting process and lots are hooked up to sewer and water. In addition there has been a $130 million investment in roads over the past few years with easy access to Hwy 99 and the rest of California.
We are talking 'speedy delivery' – not just for goods but for new buildings that will house future distribution and manufacturing hubs.
Visalia's mid-state location makes it attractive for ground shipping of goods to the Western US, enabling parcels to arrive in one-day to many locations.
Hub Central
None other than United Parcel Service appears to be convinced, having invested in the purchase of 58 acres north Riggin at Plaza  earlier this summer. Sources says UPS plans a phased development to start with – a modular sorting center to replace its current small distribution center on Goshen Ave. Then, a 400,000 permanent complex will be next for UPS – said to be the big company's future main hub in the Central Valley. Growth around its Fresno facility has boxed them in say real estate sources. Visalia's ample industrial acreage is apparently the answer.
The land is the first parcel to sell in the Central Valley Logistics Center industrial park on the northwest corner of Plaza and Riggin since it was zoned for development a decade ago.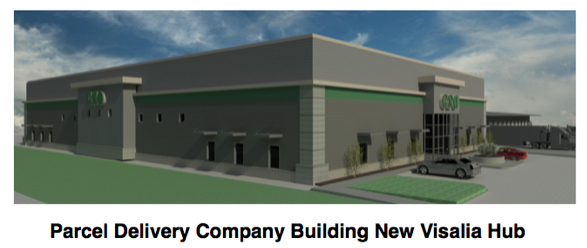 Another big shipper is making Visalia its hub. Golden State Overnight (GSO) now owned by Britain's Royal Mail, is building a 63,000sf distribution center at a cost of $2.3 million right now.Royal Mail bought GSO last year for $90 million.
 "If Memphis is the biggest hub for FedEx and Louisville is the main UPS hub  – Visalia is our most important hub for the future" says GSO's McKinley.
The company has a smaller facility it leases now that has truck docks only on one side, says company VP Bob McKinley. The complex being built by Visalia based American Inc will offer triple the number of cargo doors on both sides with full automation on the conveyor system, he says.
The GSO hub will employ about 70 when it opens and likely double that in some years expects McKinley.
"If Memphis is a the biggest hub for FedEx and Louisville is the main UPS hub  – Visalia is our most important hub for the future" says GSO's McKinley.
Speedy Construction
Perhaps the most active developer who has long recognized the need to offer new industrial space in Visalia ahead of demand  – is John Brelsford of Fresno who owns Diversified Development Group.
Last summer Brelsford broke ground on a fast-track construction project to build 3 clustered industrial buildings in a matter of weeks along Riggin near VF Corp, completing them – a total of 403,000sf – by late October of this year.
Commuters passing by each morning last month marveled at the rapid progress on construction each day.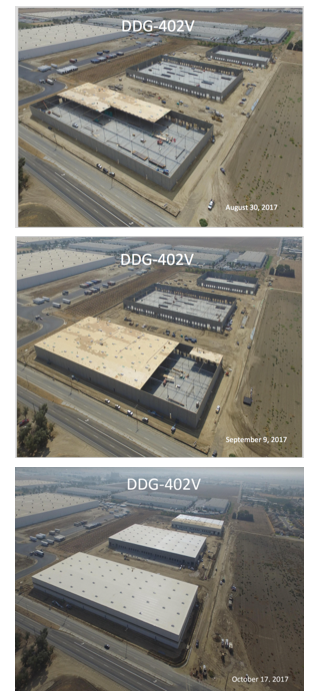 While Mr Brelsford says he can't reveal prospective tenants he is working with International Paper, who a has major paper cup manufacturing plant here, will use the most northerly building, a 140,000sf space according to the City of Visalia who received tenant improvement plans in recent days.
"They are about ready to move in" says city planner Jason Huckleberry.
A second space is close to being filled as well says Mr Brelsford.
Next Phase Coming 
Because interest has been so brisk Brelsford is not waiting to build more "spec" space. He says he expects to build about 800,000sf beginning next March on 33 acres he owns on the southeast corner of Plaza and Riggin, a few blocks from his other project.
Last year Brelsford acquired another big parcel at Plaza and Riggin – 150 acres from Doe family – now fully entitled and in the city limits at the northwest corner of this same key intersection.The spot is just 1.5 miles from the new Betty Drive interchange on Hwy 99 that is expected to be complete in a few months.
If newcomers make the news, expansion of existing industrial park tenants are the bread and butter of Visalia's economy.
While some worry that many new distribution companies looking here take larger spaces of source but actually have few employees. But some are both big on their space needs and offer lots of jobs
Consider VF Corp, the international clothing maker, who has a million square foot distribution center on Plaza Drive. VF, maker of Wrangler, Lee Jeans and NorthFace outdoor clothing, employs up to 1,100 people and most of them live within a 10-15-mile radius from the facility says the company.VF has recently completed a $3 million upgrade to their facility and plans more in 2018.
Another industrial park tenant that continues to grow larger is Perfection Pet Foods, a division of  Western Milling, based in Goshen. The pet food maker is building a $6.2 million office and warehouse right now. Owner Kevin Kruse says they are replacing a 100,000sf warehouse a few miles away."We wont have to move our products across town" from their manufacturing plant, he figures. The new warehouse will house products ready to ship to Walmart and other large customers. Perfection Pet Foods employs about 120  at their growing campus of buildings in the northwest part of the industrial park.
As interest in new buildings grow, the vacated space makes room for others who will likely gobble up this 100,000sf left by the pet food company, for example.
Meanwhile smaller players like local developer Danny Freitas says his various Visalia industrial park spaces are all spoken for and he will now build two new 40,000sf "spec" warehouses for lease, one on Kelsey and one on Sunnyview.
Also in the industrial park, Servall, the big appliance parts and repair company says they will open their new sales and distribution center in Visalia in December 2017 at 2247 N. Plaza Dr., Suite D, in am existing 35,000 sf building – one of the few vacant spots in the Mid-State 99 complex.
The company cited their ability to do one-day shipping of appliance parts to consumers and businesses throughout all of California.The business will employ 20.