Business Profile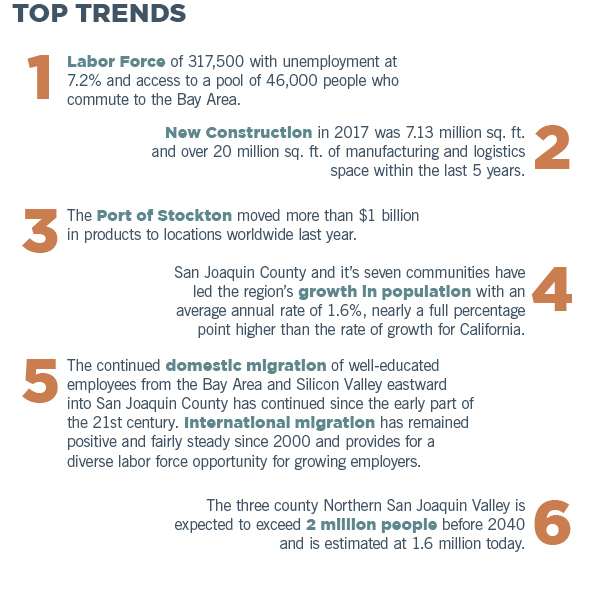 San Joaquin County (70 miles East of the San Francisco Bay Area and Silicon Valley) has seven cities and 753,769 people. Its diverse industry mix of agriculture, e-fulfillment centers, advanced manufacturing, data centers/call center and government/medical service centers has attracted companies like Applied Aerospace, Amazon, Tesla, Pacific Medical, Medline, FedEx, Trinchero-Sutter Home Winery and Crate & Barrel. Located less than 60 miles from the Port of Oakland, its transit modes include: The Port of Stockton, Union Pacific Railroad and BSNF Railway Intermodals, Stockton Metropolitan Airport with Prime Air/Allegiant Air, and a highway transportation system that links the county to major urban markets through Interstates 5, 205, 580, and State Route Highway 99.
Top Private Employers
| Company Name | Number of Employees |
| --- | --- |
| St. Joseph's Medical Center | 4,600 |
| Amazon | 3,000 |
| Safeway | 1,400 |
| Dameron Hospital | 1,200 |
| Unilever Best Foods | 100-1,100 |
| Pacific Gas & Electric | 1,100 |
| Kaiser Permanente | 1,065 |
| Pacific Coast Producers | 500-1,000 |
| Blue Shield of California | 900 |
| University of the Pacific | 500 |
| United Grocers | 700-800 |
| Amazon | 750 |
| Cottage Bakery, Inc./Con Agra Foods | 690 |
| Food 4 Less | 500-600 |

Top Real Estate Deals of 2018-19
Amazon – 2,869,865 sf (four buildings), 6,100± employees – the Seattle-based online shopping giant located four new facilities in Tracy, Stockton & Manteca. 
ATI, (Air Transport International) a full-time air cargo service has started operation at the Stockton Metropolitan airport with a temporary 25,800 square-foot open sided structure next to aircraft. They are leasing office space in the terminal building and have 250 ground handlers working at the cargo ramp daily. 
Katerra – 577,000± sf, 522± initial jobs – building components manufacturer is setting up operations in Tracy to supply its customer demand in the Northern California Megaregion. 
Kraft Heinz -The global food and beverage powerhouse just announced that they will be leasing a 723,000 square-foot portion of the North Crossroads Business Center – the reclaimed float glass manufacturing facility- for a consolidated distribution center of the company's tomato plant processing, adding 25-30 employees. 
Medline Industries, the nation's largest privately held manufacturer and distributor of medical supplies and services has constructed a 1.1 million square foot state-of-the-art northern California distribution center in the Prologis International Park of Commerce in Tracy. Working on an expansion in Manteca. 
Nature's Best, Powered by KeHE -has opened its newest, state-of-the-art, LEED Certified, distribution facility in Stockton, California. Serving the Northern California region under the name Nature's Best, Powered by KeHE, this new facility is an important addition to the Company's overall growth strategy. 35-215 employees 
Pratt Industries – 622,959 sf, 140± initial jobs – one of the nation's largest corrugated packing manufacturers has expanded national operations into Lathrop.  Tesla Motors, Inc. – 2,300,000 sf (six buildings), has expanded to Lathrop with components of its auto parts manufacturing process to service its Bay Area automobile factory. 
Trinchero Family Estates – 700,000 sf expansion, has doubled wine-processing capacity at its Westside facility in Lodi, California and added 400 new jobs. 
Spec Building- Currently over 6.6 million square feet of spec building space is under construction in San Joaquin County communities.