CSUB named 6th Best Bang for the Buck by Washington Monthly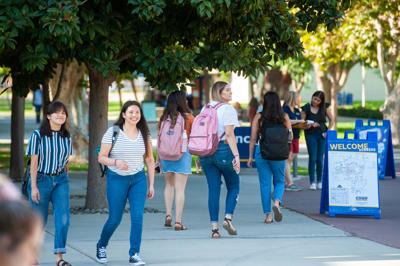 Cal State Bakersfield is a top choice among students looking for a quality education without spending a fortune on tuition — so much so that the university has been recognized as being among the West's top 10 Best Bangs for the Buck.
CSUB ranked No. 6 in the category for the 2019 Washington Monthly College Rankings. The university also ranked No. 17 out of 200 for its graduate school.
"The Washington Monthly ranking is one that we're particularly proud of because it's for universities like ours that are mission-driven, that are working typically with students from the region that are coming to us for a hope for their future," CSUB President Lynnette Zelezny said. "We're happy we are able to really show off the great work that our faculty and staff are doing to support students who are largely first in their family to go to college."
In order to keep the rankings in the future, Zelezny said her goal is to keep tuition and student fees down.
Washington Monthly said it focused on showing which colleges "do a good job promoting social mobility" and helping low-income and first-generation students with its Best Bang for the Buck ranking.
According to statistics provided by Washington Monthly, the net price of attendance for families below $75,000 income at CSUB is $5,119. Additionally, 77 percent of full-time undergraduates received need-based scholarship or grant aid during the 2017-2018 academic year.
Twelve other Cal State universities appear in the top 30 of the West rankings.
Getting into the top 20 for both cost and master's degree categories could help CSUBboost enrollment and bring in a diverse group of students from all around California and the country.
"You'll find we have a welcoming environment, personal touch, dedicated faculty and staff that will make sure you're successful," Zelezny said. "We're proud of our programs, academics and athletics, we're rising together and this is a university that's on the map."
Other California schools that made the top 10 for Best Bang for the Buck include Stanford University (No. 2), Cal State Stanislaus (No. 3), Cal State Los Angeles (No. 5), Cal State Northridge (No. 8) and Cal State Long Beach (No. 10). For other rankings, visit https://washingtonmonthly.com/2019college-guide.
https://www.bakersfield.com/news/csub-named-th-best-bang-for-the-buck-by-washington/article_ad7b6336-c915-11e9-820b-e7ba301a43aa.html