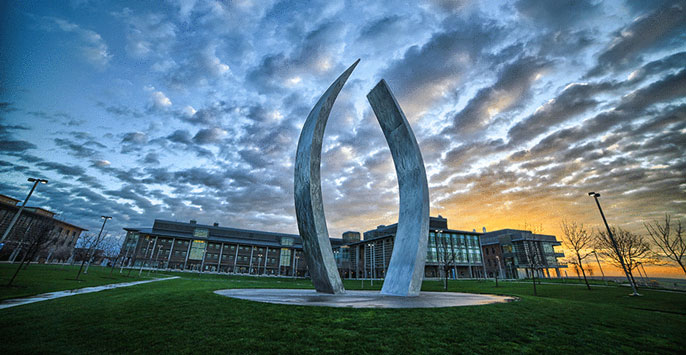 UC Merced is no stranger to innovation and disrupting traditional modes in higher education.
Whether it is funding the university's Merced 2020 Project through an unprecedented, award-winning public-private partnership or making a University of California education accessible to first-generation and underrepresented students, UC Merced has established itself as a top-notch university.
These efforts have led Education Dive to name UC Merced "University of the Year" in their 2018 Dive Awards. The awards are designed to honor the industry's top disruptors and innovators.
"We are honored to have been selected as University of the Year and appreciate the recognition of being an innovator in higher education," Chancellor Dorothy Leland said. "Building the future in the heart of California continues to be our mission, and I am excited for what is in store for the university."
Winners were chosen by the editors of Education Dive based on resonance and industry impact. The digital news outlet solicited suggestions for nominees from its nearly 180,000 readers.
"The newest University of California campus is no underdog," said Hallie Busta, editor at Education Dive: Higher Ed. "With a massive expansion underway and continued improvement in student outcomes, it has moved quickly to give the system solid footing in the state's Central Valley."
UC Merced is in the midst of a $1.3 billion expansion project that will double the size of the campus. Phase 2 of the three-phase Merced 2020 Project opened in August, with two new residence halls providing 700 new student beds and first-floor classrooms, a 600-seat multipurpose dining facility and a soccer field. Phase 2 will be completed in Fall 2019 and the final phase, which includes a conference center, a Biosafety Level 3 lab to study infectious diseases, and a competition-level swimming pool, among other buildings, will be unveiled in Fall 2020.
UC Merced's student population includes more than 73 percent who are the first in their family to attend college — double the national average and by far the highest of any UC campus. Nearly 55 percent of UC Merced's students are Hispanic, and nine in 10 students receive financial aid. Earlier this fall, UC Merced ranked second in the nation in outperforming expected graduation rates by U.S. News and World Report.