Business Profile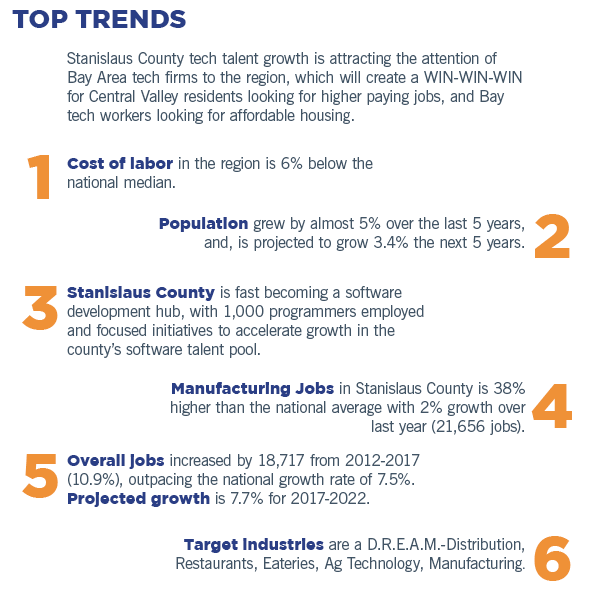 Stanislaus County is a highly integrated economic engine that is driven by agriculture, food processing, packaging, advanced manufacturing, emerging technology and logistics industries. It is home to E&J Gallo Winery, Bronco Winery, Del Monte, Frito Lay, Foster Farms, ConAgra, Blue Diamond Growers, Hilmar Cheese, Seneca Foods, Pacific Southwest Container, Stanislaus Food Products, Boyd Corporation, Bell-Carter Packaging, Plastipak, Georgia Pacific, Evergreen Packaging and many others. They are well connected to the Northern California region through State Route 99 and I-5, and the two largest Class 1 Railroads in the country, the Union Pacific and BNSF.
Top Employers
| Company Name | Number of Employees |
| --- | --- |
| Alpha Inc. | |
| Affinia Group | |
| Blue Diamond Growers | |
| Cal-Green Recycling | |
| Central Valley Specialty Hospital | |
| 5.11 Tactical | |
| Burchell Nursery | |
| Amazon | |
| Blue Scope Steel, Butler Manufacturing | |
| Bronco Wine Company | |
| GreenEyes Manufacturing | |
| Covenant Village of Turlock | |
| Datapath | |
| Ball Metal Food Container | |

Top Real Estate Deals of 2017-18
PJ's Rebar- expanded to 75,000 sf manufacturing facility in Turlock.
Denham Plastics- opened a 200,000 sf plastic manufacturing with recycled materials in Turlock.
E&J Gallo Wines-Opened a 146,000sqft facility in Modesto. 600 Employees in marketing, creative services, finance and information technology have new offices.
Valley Milk- New powdered milk 100,000 sq ft facility will employ 55 people and open late 2017.
Oportun- 5,000 sf Software Dev. Company from the bay area opened up a new office in Modesto. 25 new jobs.
Dust Bowl Brewery- in Turlock added a new 30,000 square foot facility. 20 new employees.
Hilmar Cheese- $100 million powdered milk facility in Turlock. 100 jobs created.
Restoration Hardware- Completed a 1.5 million square foot facility that employs 400. They serve northern and southern California including markets in Canada.
Amazon- 2 million-square-foot Ecommerce Center located within the Keystone Business Park in western Stanislaus County. 3,000 jobs.
US Cold Storage- US Cold Storage expanded in Turlock facility to 9.5 million cubic feet of cold storage. Long range expansion plans total 24 million sf of cold storage space.
W. Grainger, Inc- W.W. Grainger built their 820,000 sf, LEED Gold distribution facility at the Keystone West Business Park in Patterson creating 150+ new jobs.