Business Profile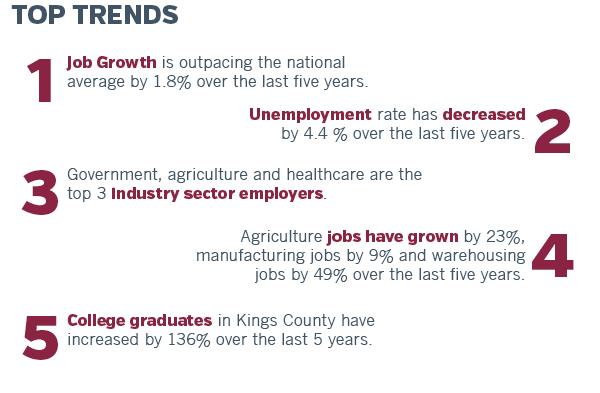 Kings County is home to major food processors, including Del Monte Foods, Leprino Foods, Marquez Brothers and OLAM Vegetable Ingredients. Also resident is Naval Air Station Lemore, recently announced as the home base of the Navy's newest strike fighters, the F-35C. Kings County is flanked by State Route 99 and Interstate 5, providing excellent logistical connection to California, the west coast and the Pacific Rim.
Top Employers
Corcoran State Prison 12,003
| Company Name | Number of Employees |
| --- | --- |
| Naval Air Station Lemore | 9,200 |
| Kings County School Districts (14) | 3,928 |
| Adventist Health | 1,948 |
| Corcoran State Prison (SATF) | 2,053 |
| County of Kings | 1,471 |
| Tachi Palace Hotel & Casino | 1,340 |
| J.G. Boswell Company | 1,300 |
| Del Monte Foods | 1,100 |
| Avenal State Prison | 1,088 |
| Leprino Foods West | 1,015 |
| Olam Tomato Processors | 1,000 |
| Warmdam Packing | 250-1,225 |
| Excelsior Farming | 170-920 |
| Super Walmart | 500 |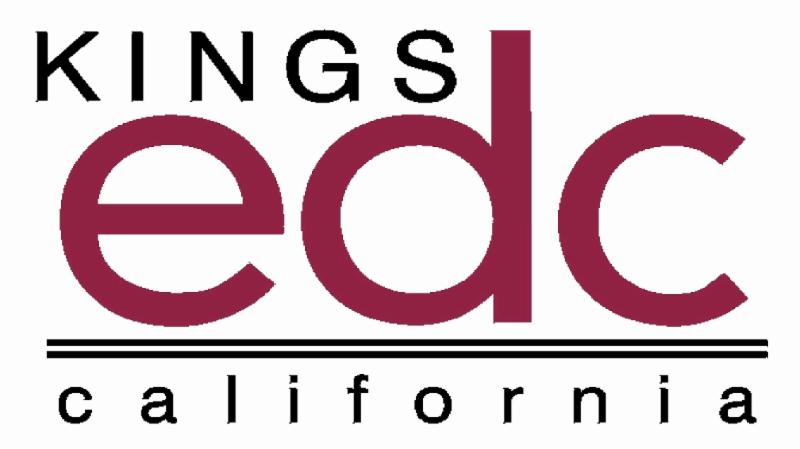 Top Real Estate Deals of 2018-19
Kelly Slater Wave Company Surf Ranch was established in Lemoore and was recently announced as a World Surf League Championship Tour venue. 
Faraday Future, an international startup luxury supercar manufacturer will begin production of their FF-91 model in Hanford, in 2018, initially employing several hundred, and projecting 1,000 workers at full production. 
Pitman Family Farms, a large grower and processor of chickens, turkeys, and ducks, purchased the Cargill grain facility in Hanford's Kings Industrial Park and the adjacent 110 acres of land. The acreage is the site of a rail loop track and a new soybean processing mill was also added this last year. 
Tessenderlo Kerley, Inc. officially opened its sulfur-based liquid fertilizer manufacturing and distribution facility on 46 acres in Hanford. Thirty employees were hired by the company. 
Verdegaal Brothers, Inc. has started construction on its tank farm to hold 99 tanks of 10k gallon each of sulfuric acid for farm application. They are also completing the construction on a new 125,000-gallon sulfuric acid tank. 
Mar Vista Resources, purchased and upgraded the former Homac manufacturing facility in the Corcoran Industrial Park expanding the complex by almost 9 ½ acres and 37,500 square feet of production and storage. 
Costco Development - at the intersection of Highways 43 and 198. Costco is the featured anchor of the master planned 499,000 sf 58-acre shopping center project. 
Hanford's Adventist Health / Family Birth Center opened a 49,000 sf center with 34 beds and 6 neonatal intensive care units in partnership with Children's Hospital Central California, and 2 operating rooms 
Tulare Lake Compost constructed a new facility on 175 acres of marginal farmland. Located in southwest Kings County, the company processes biosolids from So. California and blends them with green and ag waste to produce a stabilized, humus-like soil conditioner. 
Caleva and Genezen, two medical cannabis growers and processors are completing the permitting process, with production planned for 2019. 
Airgas, a subsidiary of French company Air Liquid, selected a manufacturing location in Hanford to manufacture high grade industrial ammonia.